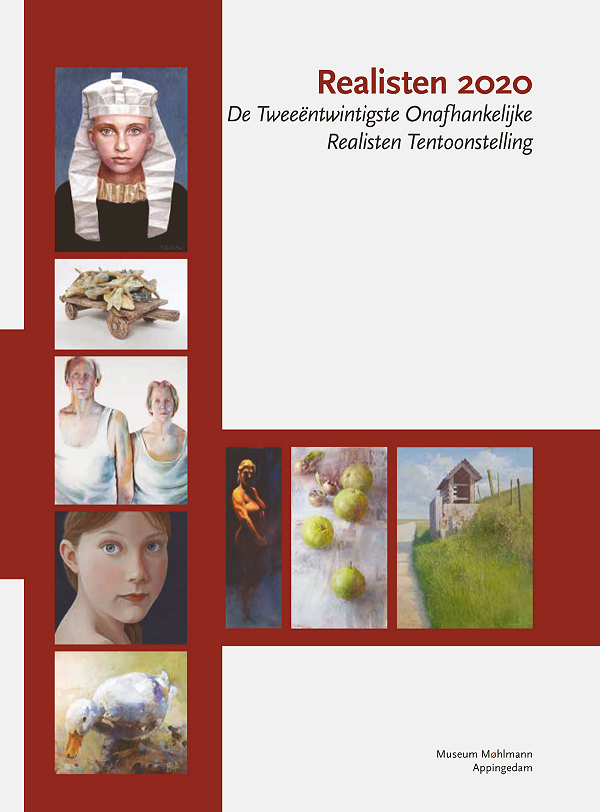 Sale!
22st Realisten 2020 € 24.95,-
The Independent Realists Exhibition in Museum Møhlmann also publishes the book Realists every year.
With work by over a hundred artists, including Sonja.
240 pages full color with hard cover.
Book/catalogue, published on the occasion of the Twentieth Independent Realists Exhibition, autumn 2020 in Museum Møhlmann. It has 256 pages, in full-color and with a hard cover. Two works of all 114 artists are included, often with accompanying, own text. There is also a substantial, but very readable report on Corona, Cunst & Culture, in which the writer has followed the corona time from the museum for the past six months and finally wonders whether art actually matters? The book appears in a limited edition and not in bookstores.
Participating artists:
Christiaan T. Afman, Piets Althuis, Erik van de Beek, Dina Belga, Maja van Berkestijn, Roland Beyer, Tim Blaauw, Kees Blom, Loes Botman, Diane Brodie, Sonja Brussen, Hermien Buytendijk, Lidwien Chorus, Robert Willem Daalmeijer, Lionella Delcampo, Hans Deuss, Nicky Dijkstra, Siemen Dijkstra, Janhendrik Dolsma, Joost Doornik, Lydeke von Dülmen Krumpelmann, Marcel Duran, Peter Durieux, Ger Eikendal, Douwe Elias, Hendrik Elings, Sara van Epenhuysen, Frâns Faber, Hans Feyerabend, Bethany de Forest, Flip Gaasendam, Haije Gemser, Rosalie Hammink, Jos Handgraaf, Chris Herenius, Annet Hiltermann, Carel Huls, René Jansen, Monica Jonkergouw, Lammert Joustra, Irma Kamp, Romee Kanis, Jacqueline Kasemier, Lieuwe Kingma, Jannes Kleiker, Jannes Koetsier, Elwin van der Kolk, Keimpe van der Kooi, Corry Kooy, Michiel Kranendonk Arend Kuiper, Gert Lambert, Sabine Liedtke, Claartje van der Linden, Friederike Linssen, Jan van Loon, Edith Madou, Debora Makkus, Marieke Maneschijn, Clary Mastenbroek, Harry Meerveld, Yvonne Melchers, Erik van Ommen, Theo Onnes, Dick Oostra, Drago Pecenica, Jantina Peperkamp, Rein Pol, Grietje Postma, Magna Postma, Huib Rademakers, Adolfo Ramón, Henk Renting, Gezien van de Riet, Ben Rikken, Erik Rijssemus, Roelof de Roo, Wikje Schoon, Robin d'Arcy Shillcock, Har Siekman, Anuschka de Smidt, Ingrid Smuling, Hilda Snoeijer, Ewald Sorbi, Ton van Steenbergen, Jan Jaap Stigter, Edith Stoel, Frea Stuurwold, Marjolein Terwindt-Wetterauw, René Tweehuysen, Rien van Uitert, Hennie Unkel, Mattie van der Veen, Van der Vegt, Irene Veltman, Elysia Verhoeven, Ruud Verkerk, Caroline Verschoor, Harm Visser, Wilma van der Vliet, Ton Voortman, Gerrit de Vries, Aly van der Wal, Cas Waterman, Gerrie Wachtmeester, Wout Wachtmeester, Zwaantje Weishaupt, Maarten Welbergen, Hiske Wiersma, Marianne Wilkens, Dorry van de Winkel, Fiona Zondervan, Erik Zwaga, Theo Zwinderman